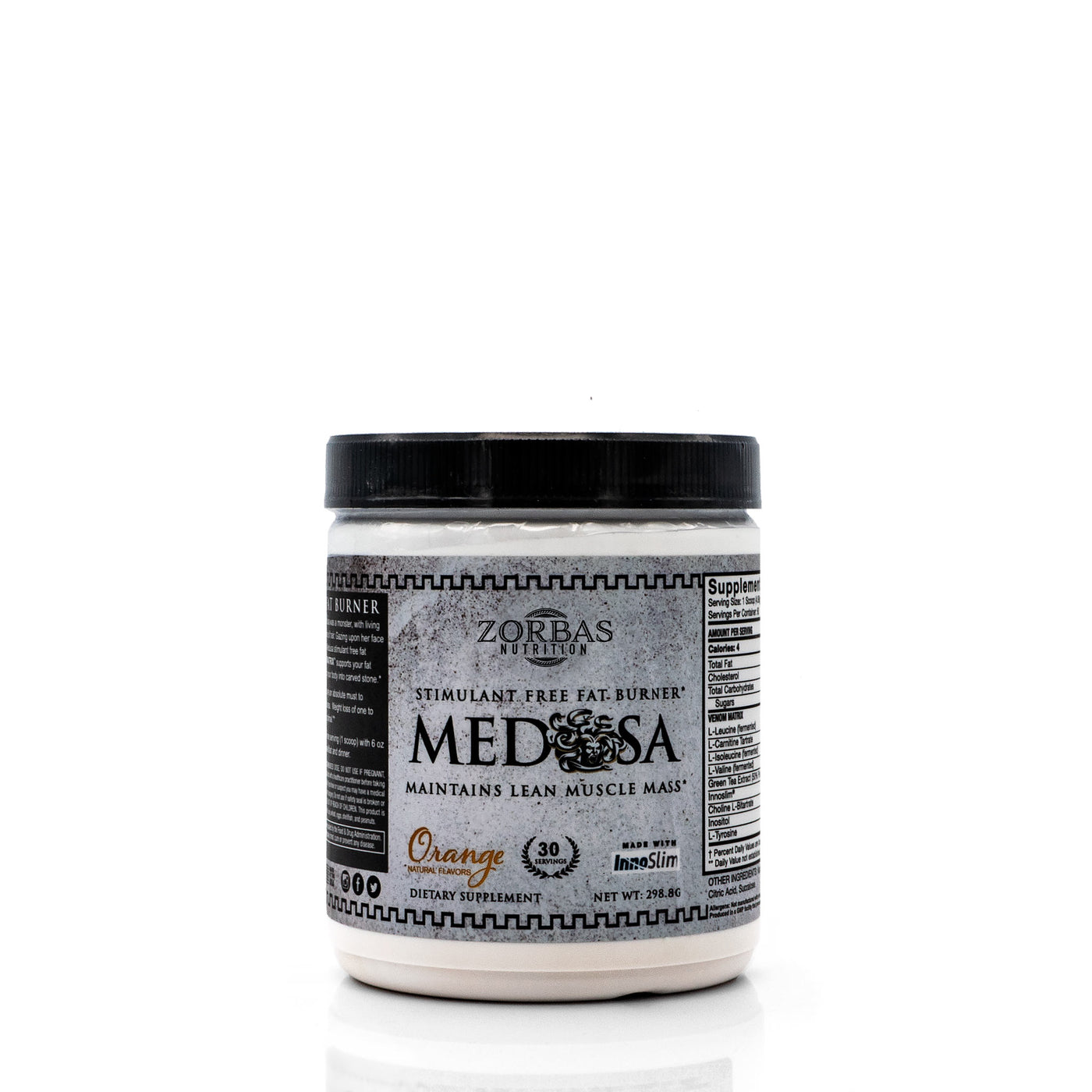 Medusa — Stimulant Free Fat Burner — Greek God Supplements
$49.00
Although Medusa wasn't a God, She definitely bestowed the power of one. One look into Medusa's eyes and you shall be turned to stone. A scoop from Zorbas Nutrition's Medusa one can be carved into stone. Or can you?

Lets face it, is Medusa a miracle supplement that will turn you into a Greek God or a Goddess? Or in this case a Gorgon. No! But it can assist in your fitness goals. If your diet is in order and your training hard then taking the Medusa can do wonders for you.
How?
Medusa is a non-stimulant based compound that helps the body burn calories without raising the heart rate, elevating blood pressure or causing central nervous system stimulation. The processes occurs by utilizing fatty acids into fuel to allow the body to use it for energy. Best of all, it's SAFE!
Medusa contains 
— a safe and effective long-term weight loss management ingredient. 100% natural, InnoSlim® is derived from Panax notoginseng and Astragalus membranaceus using a pharmaceutical grade extraction. InnoSlim® is a registered trademark of NuLiv Science USA, Inc.
Suggested Use
Mix one serving (one scoop) with 6 Oz. ice-cold water prior to breakfast and dinner.
Nutrition Facts

Serving size: 1 scoop (4.98 grams)
Servings per container: 60
Amount per Serving
% Daily Value *
Calories
4
Calories from fat
0
Total fat
0mg
0%
Cholesterol
0mg
0%
Total Carbohydrates
1mg
1%
Sugars
0g
**
Venom Matrix
L-Leucine (fermented)
1000mg
**
L-Carnitine Tartrate
600mg
**
L-Isoleucine (fermented)
500mg
**
L-Valine (fermented)
500mg
**
Green Tea Extract (50% Polyphenols)
275mg
**
Innoslim®
250mg
**
Choline L-Bitartrate
250mg
**
Inositol
250mg
**
L-Tyrosine
50mg
**
* (DV) Daily Value based on a 2000 cal. diet.
** Daily value not established on.
Other ingredients: natural flavors, maltodextrin, citric acid, sucralose.
 is a registered trademark of NuLiv Science USA, Inc. Allergen warning: Not manufactured with wheat, gluten, egg, fish, shellfish, or tree nut ingredients. Produced in a GMP factory that processes other ingredients containing these allergens.
Warning:
DO NOT EXCEED THE RECOMMENDED DOSE. Do not use if pregnant, nursing, or under the age of 18 (eighteen).
Consult with a healthcare practitioner before taking this or any dietary supplement, especially if you have or suspect you may have a medical condition. Immediately discontinue use and contact your healthcare professional if you experience any adverse reaction to this product, including but not limited to rapid heartbeat, dizziness, severe headaches or shortness of breath. Discontinue use 2 (two) weeks prior to surgery. Do not use if safety seal is broken or missing.
KEEP OUT OF REACH OF CHILDREN.
 Store in a cool, dry place.
These statements have not beeen evaluated by the
U.S. Food and Drug Administration
. The product "Medusa — Stimulant Free Fat Burner — Greek God Supplements" is not intended to diagnose, treat, cure or prevent any disease.